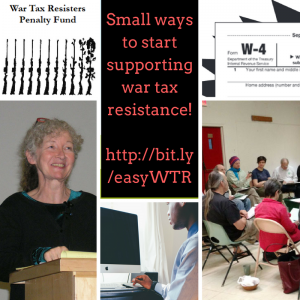 War tax resistance (WTR) is an empowering and rewarding form of civil disobedience. However, some people find that the first step of "becoming" a war tax resister is intimidating. The government tells us that they have our best interests at heart and that the IRS is an enormous, omniscient, omnipotent entity that has the power to ruin our entire lives. Neither of these things is necessarily true.
If you're ready to take another step in your war tax resistance journey and want to start small, here are some things you can do:
1) Write a letter to the editor of your newspaper or comment on a major political blog or article, questioning military spending priorities and expressing support for people who resist paying war taxes.
2) Enclose a letter with your payment of taxes stating that although you are paying your taxes, you are doing so under protest. Share this letter with your friends and family and send it to your local newspaper or other media sources, congressional representatives, local politicians, or local political organizations. Or use our Peace Tax Return.
3) Change your W-4 withholding. If you have a salaried job and you find the IRS owes you money every year, you are being over-withheld and lending the government your money interest-free. In order to reduce your withholding, you need to submit a new W-4 form to your employer claiming enough allowances so that you will owe the IRS and thus are in a position to refuse taxes. (Note: You only need to submit the lower portion of the form, not the worksheet.) Read "Controlling Federal Tax Withholding" and Filing and Refusing for more on this subject.
4) Talk with one of NWTRCC's counselors, who have volunteered to counsel folks interested in or engaging in war tax resistance. Counselors can discuss the potential risks and benefits and help you determine for yourself what your best course of action is in regard to resisting war spending. You can also contact the NWTRCC office.
5) Invite a war tax resistance speaker to your peace or social justice group's next event or meeting.
6) It's no risk at all to attend a NWTRCC conference and learn about war tax resistance in person from resisters who travel from around the country to spend a weekend together!
7) Resist the local telephone excise tax. The federal telephone excise tax pays into the general fund and historically has been related to wars and excessive military spending. It appears on local-only, landline phone bills. Refusing to pay this tax is a low risk method of war tax resistance.
8) Withhold $10.40 or another small amount from your taxes as a symbolic protest. Enclose a letter with your payment and/or share your resistance with friends and family, local newspaper or other media sources, congressional representatives, local politicians, or political organizations.
9) Join the War Tax Resisters Penalty Fund. Members of the penalty fund crowdfund to repay other resisters for interest and penalties levied and seized from them by the IRS. More information.
If you can no longer pay your taxes with a clear conscience, if you want to act to defund the military, if you want to make a stand against war, take one of these actions today.
Post by Erica Weiland
Updated 12/17/15, 12/29/16