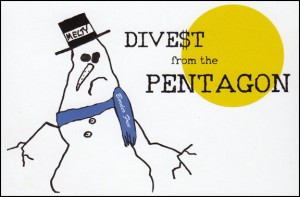 These six quotations from two recent books have each appeared on the backs of most of the 2,000 "Divest from the Pentagon" postcards distributed over the past year throughout the U.S., in Okinawa, and in South Korea. The goal is to show the intimate connections between warmaking and climate change and other "environmental" disasters, such as the hazardous and avoidable contamination of water. And to emphasize commonalities between activists facing erstwhile separate challenges. Refusing to pay for war is a strong stance against fossil fuel consumption, as well as an effective way to protect water.
Many readers have been surprised to learn the extent of the Carbon bootprint U.S. warmaking continues to leave on this planet. The quotes also address war/climate change profiteering, the basics of divestment strategy, and widespread war-related hazardous waste pollution.
— Jason Rawn, Maine
Even the greenest military installation has a carbon footprint vastly disproportionate to the number of people living and working on base. Bases are, after all, usually home to large concentrations of extraordinarily fuel-inefficient trucks, tanks, aircraft, and navy vessels. All of these require massive supplies of fuel, oil, lubricants, and other petroleum products for frequent training and exercises, not to mention wartime activities. The military also uses huge amounts of energy to air-condition, heat, and power its bases' tens of thousands of buildings and structures. The military's thirst for petroleum is so great that on a worldwide basis, the US armed services consume more oil every day than the entire country of Sweden. This means that with the exception of a handful of countries, the US military probably produces more greenhouse gas emissions and other forms of pollution than almost any other organization, corporation, or entity on earth.

— Base Nation: How US Military Bases Abroad Harm America and the World by David Vine
The US military is by some accounts the largest single consumer of petroleum in the world. In 2011, the Department of Defense released, at minimum, 56.6 million metric tons of CO2 equivalent into the atmosphere, more than the US-based operations of ExxonMobil and Shell combined.
— This Changes Everything: Capitalism vs. the Climate by Naomi Klein
And in a moment of candor, the weapons giant Raytheon explained, "Expanded business opportunities are likely to arise as consumer behavior and needs change in response to climate change." Those opportunities include not just more demand for the company's privatized disaster response services but also "demand for its military products and services as security concerns may arise as results of droughts, floods, and storm events occur as a result of climate change." This is worth remembering whenever doubts creep in about the urgency of the crisis: the private militias are already mobilizing.

— This Changes Everything: Capitalism vs. the Climate by Naomi Klein
The eventual goal is to confer on oil companies the same status as tobacco companies, which would make it much easier to make other important demands – like bans on political donations from fossil fuel companies and on fossil fuel advertising on television (for the same public health reasons that we ban broadcast cigarette ads). Crucially, it might even create the space for a serious discussion about whether these profits are so illegitimate that they deserve to be appropriated and reinvested in solutions to the climate crisis. Divestment is just the first stage of this delegitimization process, but it is well under way.
— This Changes Everything: Capitalism vs. the Climate by Naomi Klein
At home and abroad, bases regularly dumped toxic substances into rivers and streams, including asbestos, leaded paint, and other hazardous materials. Bases habitually oiled down dirt roads to contain dust. Some dumped hazardous waste at sea, including materials associated with nuclear, biological, and chemical weapons. An Army spokesperson admitted that in waters off eleven states around the country, the Army "secretly dumped 64 million pounds of nerve and mustard gas agent in the sea, along with 400,000 chemical-filled bombs, land mines, and rockets, and more than 500 tons of radioactive waste either tossed overboard or packed into the holds of scuttled vessels." By 2000, the military estimated that it's bases in the United States alone contained 28,538 toxic waste sites, with nearly twenty-seven million acres of contaminated property. The estimated cleanup costs are nearly $50 billion.

— Base Nation: How US Military Bases Abroad Harm America and the World by David Vine
Naomi Klein gets the last word here. Anyone who has ever redirected any of their hard-earned money away from war can relate to this idea of building a better future. And has moved beyond fear-induced paralysis in order to participate directly in the remaking of the planet.
Fear is a survival response. Fear makes us run, it makes us leap, it can make us act superhuman. But we need somewhere to run to. Without that, the fear is only paralyzing. So the real trick, the only hope, really, is to allow the terror of an unlivable future to be balanced and soothed by the prospect of building something much better than many of us have previously dared to hope.

— This Changes Everything: Capitalism vs. the Climate by Naomi Klein