Divest from the Pentagon, Invest in People
War tax resisters and campaigners against high military spending participated in rallies, vigils, redirection ceremonies and organized leafleting and penny polls around tax day 2016. In addition, actions took place around the world for the Global Campaign on Military Spending.
See the links under our media menu for 2016 tax season articles and recorded interviews and podcasts.
Jump to photos and reports from: San Diego, Cal; Portland, Ore; Chicago, Ill; Eugene, Ore.; Colorado Springs; Washington, D.C.; New York City; Tucson, Ariz.; Asheville, N.C.; Portland, Maine; Berkeley, Cal.; and South Bend, Ind.
---
San Diego, California
Anne Barron reports: "Our 1st annual war tax redirection in San Diego! So honored to turn my war $ to peace work. Along with the Southern California War Tax Alternative Fund, we redirected $8,200 from war to these amazing people: Peace Resource Center, tiny shelters/Amikas, Food Not Bombs, Overpass Light Brigade, UHURU, and alternatives to violence. We got word that the police were on their way to our war tax ceremony in front of the spiffy new downtown library. Apparently they came 2 'check' our tiny shelter! Why? Because these simple solutions by communities 4 the community threatens their power? So we quickly moved the controversial shelter to safety down the sidewalk."  The press conference was at noon on Friday, April 15. War tax resisters and peace activists caught the attention of commuters with the Overpass Light Brigade on the evening of April 15.
Click on photos below to enlarge.
---
Portland, Oregon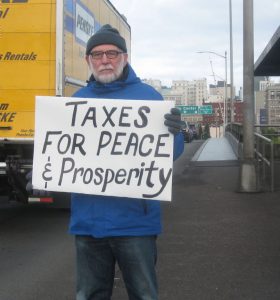 Amazing organizer John Grueschow (left) and a group of us held signs on tax day rush hour on several bridges in Portland (it wasn't raining!).  Most responses were really positive with friendly waves and thumbs up, but I did see a handful of people with negative responses—I was holding a sign that said "Peace Not War".  I'm not sure how this message could have such a strong negative reaction from people, but I guess they weren't from Portland!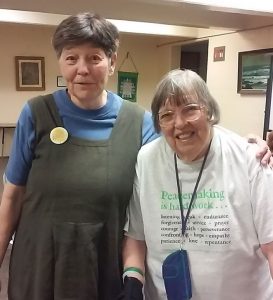 Our redirection program was another success, giving away over $6,000 to 6 different local groups, including Books to Prisoners, Food Not Bombs, and the Returning Vets Project.
Left, Pam Allee and Ann Huntwork at the redirection ceremony.
—Report and photos by Kima Garrison
---
Chicago, Illinois
Chicago Area War Resisters Support Group, the Hyde Park Center for Nonviolent Action, Catholic Worker center Su Casa, UUSJ Peace Task Force, and WRL Chicago Chapter sponsored a "Pay No War Tax Demonstration" on Monday, April 18th, at Federal Plaza / Post Office in downtown Chicago. WRL Chicago's Charles Paidock reported that the open microphone resonated across the plaza while 10-12 people distributed pie chart flyers vs. war tax to people entering US Post Office to mail returns.
"I figure IRS is going to wonder why there was a decline in tax returns from Chicago," says Charles.
In addition, Rosalie Riegle spoke in a forum at the Third Unitarian Church in Chicago on April 17, along with a slide show with resources as well as photos of storied tax resisters. She says, "I used the pie chart as a handout. There were several good questions and an interesting discussion, with one member of the audience remembering Karl Meyer's work on tax resistance when he was in Chicago."
---
Eugene, Oregon
On Friday, April 15th, war tax resisters, Raging Grannies, members of the Community Alliance of Lane County, and friends gathered at the downtown post office for a rally, penny poll, and announcement of war tax redirection. Sue Barnhart announced the redirection of tax dollars to groups including 350.org, Stand for Children, the local chapter of the NAACP, and Occupy Medical.
All photos by Jain Elliot. See her photo album from the event, shared on NWTRCC's Facebook group page.
---
Colorado Springs, Colorado
Members of the Bijou Community were out at the post office in Colorado Springs on April 15.
We'll await the results of the penny poll from residents of this heavily militarized area, which includes United States Air Force Academy, North American Aerospace Defense Command, Peterson and Schriever Air Force Bases, and
Fort Carson Army Base.
---
Washington, D.C.
Carol Coney (left) displays her banner at IRS headquarters on April 15. She and other war tax resisters were in D.C. for the Democracy Spring actions to "get money out of politics." We held a vigil at the IRS before joining up with a rally for D.C. statehood and a march by that group to the Capitol Building where Democracy Spring was holding a rally followed by a sit-in on the Capitol steps.
Carol C. was joined by Carol Moore, Brian Barrett, Candy, Ronnie Fellerath, and Ruth Benn behind the camera.
---
New York City
The tax day protest (sponsored by NYC War Resisters League) in front of the Manhattan IRS included a picket line, leafleting with WRL pie charts, Granny Peace Brigade singalong, a NYC People's Life Fund redirection ceremony of tax resisted money, and rapping with The Peace Poets' Luke Nephew.
Top row: Banners and signs and expert leafleting by Emma, who handed out piles of pie charts.
Bottom row: NYC People's Life Fund gave out their 2016 redirection grants to the New Sanctuary Coalition, BK Rot, Not an Alternative, and The Peace Poets. Photos by Ed Hedemann.
---
Tucson, Arizona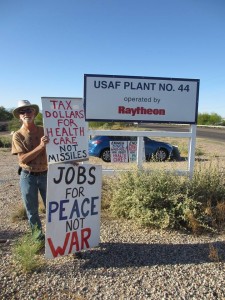 Tax dollars are needed for health care and education, not more weapons and war!! Nuclear Resister
co-coordinator Jack Cohen-Joppa (left) stood outside Raytheon's missile factory in Tucson on Tax Day, where the war profiteer makes Star Wars "kill vehicles", Mavericks, AMRAAMs, microwave crowd control beams, drones, cluster bombs, cruise missiles and many more instruments of death. Felice (right) exhibits some more radical ideas, like using tax dollars for mass transit instead of missiles!
Photos courtesy of Nuclear Resister.
---
Asheville, North Carolina
Hanging out in Asheville on a beautiful tax day. Photos by Clare Hanrahan.
---
Berkeley, California
Northern California People's Life Fund granted $20,000 in resisted war taxes to local community organizations doing peace and social justice work at a potluck and celebration on April 19. Grants were given to Art Forces,
BAYAN-USA, Berkeley Food Pantry, Catalyst Project, East Bay Community Land Trust, East Point Peace Academy, Fellowship of Reconciliation Peace Presence, Indigenous People's Day Committee, Lower Bottom Playaz, Oakland Emiliano Zapata Street Academy, People's Community Medics, Prison Radio, The Creators Gift 137, Tri-Valley CAREs, Veteran Artists, and Young Workers United. The 2016 Granting Ceremony was held at Berkeley Fellowship of Unitarian Universalists.
---
Maine — Portland and elsewhere
Read the full report from Tax Day in Maine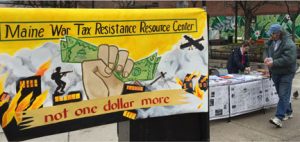 Maine penny poll results
The rally at Portland's Congress Square Park on April 19, the last day to final in Maine due to a holiday, got coverage on the Maine National Public Radio website, "Maine Activists Protest Spending on U.S. Nuclear Overhaul," and on WCHS Channel 6, "Mainers Protest Military Spending on Tax Day."
---
South Bend, Indiana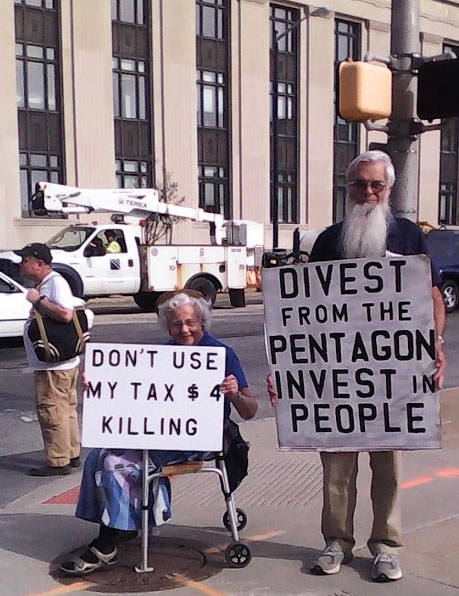 On a warm, sunny afternoon, war tax resisters and supporters displayed their messages on signs near the South Bend Federal Building on tax day. The five humans had help from surrogate sign holders (right).
Photos by Ellyn Stecker.
---
Was there a Tax Day action in your community? Email your report, with or without photos, to NWTRCC.