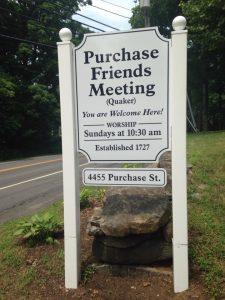 "Resisting Together"
War Tax Resistance Gathering and Coordinating Committee Meeting
Purchase Meeting House, West Harrison, New York

---
Join us in November for a mini-conference on Friday & Saturday (and our business meeting on Sunday). This will be our second in-person meeting since the beginning of the pandemic. As with our meetings prior the pandemic, there will be an online component for those you want to join us online.
The primary focus of the weekend will be celebrating war tax resistance as an action that can be done in solidarity with others.
The conference is being hosted by the Purchase Friends Meeting (4455 Purchase Street, West Harrison, New York 10604). The meeting house has WiFi, so portions of the conference will also be online. The meeting house will be able to accommodate 15 people using sleeping bags on the floor. Some households in the area will also host folks and provide beds.
The meeting house is about a thirty-minute drive from New York City and just south of the Connecticut border. If you plan on flying to the gathering and need a ride from the airport, please fly into West Chester County Airport. (This airport literally abuts the meeting house. Also, the other airports would be very difficult for arranging rides.)
You are welcome to attend one session, all, or parts of the weekend.
Contact for the Gathering: Lincoln Rice 262-399-8217
Costs: Registration for the conference is $25. (This cost includes housing & meals.) The $25 does not cover the true expense of the conference, for which we are thankful to all those who make donations to NWTRCC. Feel free to make a donation to NWTRCC above the $25 registration fee. It really helps us continue our mission. (*The registration fee is waived for college students. No one will be turned away for lack of funds*)
You can make a payment using the PayPal button above or by writing a check payable to NWTRCC and sending it to: NWTRCC, PO Box 5616, Milwaukee, WI 53205.
(The form below is for people attending in person. Click here to register if you will be joining us on Zoom.)