War tax resisters will be at the Border Convergence with leaflets, literature table, and a workshop. Please help us cover the costs for travel and fees. Donations of any size are much appreciated!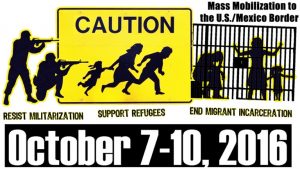 Over the past few years, organizing around the legal status and rights of undocumented immigrants has grown significantly. The Obama administration has deported more undocumented immigrants than any other administration, even as many of those immigrants are fleeing unsafe situations caused by US interventionism. As a result, School of the Americas Watch (SOAW) has moved its annual convergence against the Fort Benning, Georgia-based military training facility to the border, centering on Nogales, Arizona and Nogales, Mexico. A smaller convergence will still take place in Georgia in November.
SOAW says,
Our goal is to

·    highlight US intervention in Latin America as one of the root causes of migration
·    stage protests, cultural events, and nonviolent direct action against racism, xenophobia and US militarization at home and abroad.

We understand these two go hand in hand and that U.S. state violence is not particular to United States.  Communities are being targeted for assassination and state repression throughout the Americas by U.S. trained military and police forces.
NWTRCC will have a table at SOAW events on October 7 and 8 this year and may plan a workshop as well! Please contact us if you would like to help table or connect with us at SOAW.
Of interest to war tax resisters is federal funding for border militarization. For Fiscal Year 2017, the Department of Homeland Security (DHS) requested about $41 billion. Of this amount, WRL estimated that about $3 billion relates to militarism, including border militarization. Among DHS's requests for border militarization was this request for $33.5 million for "Tactical Aerostat:"
The budget requests an increase of $25.7M (for a total of $33.5M) to support the Tactical Aerostats and Re-locatable Towers program. This funding increase will allow CBP to operate an additional four (for a total of five) tactical aerostat systems along the Southwest border. The program uses a mix of aerostats, towers, cameras, and radars in order to enhance USBP situational awareness in the operational environment through strategically located aerostats and towers in the well-known high traffic areas.
DHS also requested $51 million for Multi-role Enforcement Aircraft to use against the drug trade, and $14.8 million for Black Hawk helicopters:
Black Hawks are critical to border security operations, being the only helicopters with medium lift capability (8 agents with full gear), rugged enough to support interdiction and life-saving operations in very hostile environments, and at high altitudes in the desert, over open water, and in extreme cold. They can carry USBP life-saving and tactical teams into hostile situations, having been designed as combat support aircraft, they have crash-survivable sub-systems, and are critical to the successful execution of national special security events. The request will support a more cost-efficient approach to recapitalization using the Army's hospital variant of the UH-60L.
Such requests make it clear that the border is effectively a war zone.
Post by Erica
P.S. In May 2010, NWTRCC met in Tucson, just 60 miles north of Nogales, at the facilities of the organization Borderlinks. While we were in town we learned a great deal about how border militarization is related to domestic and foreign militarism, as well as the impacts that it has on the environment (as reported in the June/July 2010 issue of More Than a Paycheck):
"One of our Saturday sessions was on border issues, and we were lucky to have three excellent speakers: Dan Millis, with No More Deaths, who was the first of 15 or so humanitarians who were cited with littering for leaving water for migrants in the desert on Buenos Aires National Wildlife Refuge; Rev. Gene Lefebvre, co-founder of No More Deaths; and, Rachel Winch, a volunteer delegation leader with Borderlinks. Rachel has an article on the new law at nacla.org/node/6535.

"The militarization of the border and the connections for people who don't want to pay for war were made from many angles as we went around the room: The U.S. is funding both sides of militarism against immigrants and the corporate policy that drives people here, especially with the passage of NAFTA under Clinton. The wall on the border is the same as the wall in Palestine. We try to solve everything with violence. By making "the other" we allow policies that dehumanize people, especially people of color. War is in the nature of the state; borders are established by state and changed by wars…

"An excellent resource on border issues is a short film, Wild Versus Wall, made by our very own Steev Hise, who co-hosted us with Jack and Felice Cohen-Joppa. He made the film for the Sierra Club's Borderlands project, and it can be found on their website, sierraclub.org/borderlands."