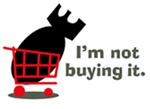 Today marks the 70th anniversary of the US military's nuclear bombing of Hiroshima, which killed as many as 150,000 people. On August 9, we recognize the 70th anniversary of the bombing of Nagasaki, which killed as many as 70,000 people. Nuclear bombs were funded by US war taxes, coming from US taxpayers, and dropped by US military forces.

Nuclear weapons are made to be more destructive than any other weapon, even though they are rarely used. (Depleted uranium being a notable exception.) Nuclear weapons really keep the war economy going since their very presence requires a constant readiness for war, not to mention maintenance and supervision. Over the next ten years, the US is estimated to spend about $348 billion on nukes. Why work for a nuclear-free world but pay for those weapons yourself?
This week, peace activists around the world are honoring the lives ended by the US bombings in Hiroshima and Nagasaki, and continuing work for a nuclear-free world. In addition to the horrors of those bombings, the Fukushima plant meltdown is still wreaking havoc on people and their environment three years later.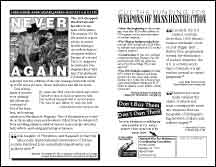 Look for events in your area at Nuclear-Free Future, get action ideas here, and download NWTRCC's "Never Again" flyer to distribute.
Keep up on anti-nuke activism with The Nuclear Resister, and check out past coverage of nuclear issues on our blog.
And stay tuned for a report from war tax resisters who are in Japan this week for the commemoration.
Post by Erica