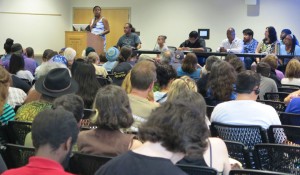 As Erica reported in the last post, NWTRCC was present at two sites of the 2015 U.S. Social Forum. She reported from San Jose. I was at the Philadelphia convergence, where our war tax resistance presence was somewhat limited by a lack of volunteers and scheduling conflicts, but a few of us were there Thursday, half of Friday, and Sunday morning, June 25-28.
Nadine Hoover from upstate New York helped inspire us to offer a workshop. She had participated in the Atlanta Social Forum in 2007 and presented a workshop with Bill Galvin from the Center on Conscience and War, which they found very successful. NWTRCC Administrative Committee member Ari Rosenberg lives in Philadelphia and agreed to participate also, so the three of us planned a workshop, "Violence and War, Conscience and Taxes." Scheduling landed us in the first session on Thursday when attendance was generally low, but we were pleased that one of our attendees was a high school student who is looking ahead about how she wants to live her life and wanted to know more about paying — or not paying — taxes.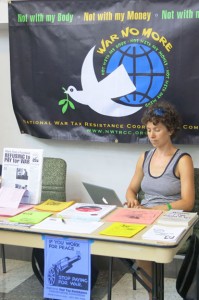 NWTRCC literature was out all day Thursday and most of Friday. As Erica noted, tabling is always interesting. Many people stop and ask questions or talk about their experiences with war tax resistance. Others come and pick up one of everything on the table. Others ask for a few extra pie charts or cards to hand out, and a good number added their names to our sign up sheet. Even though our workshop was poorly attended, many people mentioned seeing our listing in the program. Maybe they'll go home and look at nwtrcc.org.
The attendance totaled maybe 1,500 over the four days (nothing like the 20,000 in Detroit in 2010), but the representation was diverse in all ways — age, ethnicity, activist groups, issues discussed. The program was at Temple University, both a comfortable space and an interesting neighborhood.
Mostly, being at the Social Forum seemed like an opportunity to see who's doing what, get ideas from how other groups organize, and consider how war tax resistance might be a more visible presence and partner in the movement for peace and social change.
You can watch some of the streamed events, a short film that shows Saturday's march in Philadelphia, or get a sense of the Saturday morning People's Movement Assembly, Advancing the Solidarity Economy. Those links will probably lead you to other online reports.
I hope that we can build a stronger network of war tax resisters willing to participate in such events in the future. There are many ways to link war spending, taxes, resistance and redirection to so many issues. Tabling is great – just getting our literature there and talking to people is definitely worthwhile. If we want to present a workshop again, I think taking more time to outreach to other groups and find partners for a panel presentation would be good. We had begun to do some presentations under the topic of "economic disobedience" and that would have fit in well with many other offerings on alternative economics.
All in all, as Ari said, "Generally I felt like despite the low turn out people tended to be interested in asking questions and learning more about WTR and that gives me hope that we'll be able to spread our network as we continue to outreach and build community across social/political spheres."
 Post and photos by Ruth Benn
 P.S. Thanks much to Susan for the hospitality. The WTR network does come through in many different ways! And a tip of the hat to all the organizers of the USSF.