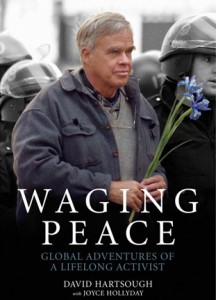 A Transition is Inevitable: A Review of David Hartsough's Waging Peace: The Global Adventures of a Lifelong Activist    
by Jason Rawn
David Hartsough's Waging Peace: The Global Adventures of a Lifelong Activist delivers the best of what the title promises, with emphasis on the Waging and the Adventures. Beginning with a racist's shaking knife at his own shaking chest during a lunch counter sit-in, Hartsough takes us from the bullies and rocky snowballs of one influential walk home from school in his childhood Iowa – "My first encounter with the power of nonviolence came early" – through his decades of energized, sustained, nonviolent direct action on frontlines all around the world, eyes always on the prize, or else searching for it through teargas.
David Hartsough is a Quaker and a War Tax Resister who has for decades been redirecting a large portion of his "tax obligations," believing that if war is abolished, "humanity can not only survive and better address the climate crisis and other dangers, but will be able to create a better life for everyone. The reallocation of resources away from war promises a world whose advantages are beyond easy imagination." (Editor's note: The 2016 U.S. budget for past, present, and future wars is $1,300 billion.) He cofounded the Nonviolent Peaceforce, inspired in part by Gandhi's idea of a shanti sena, a peace army, and this organization is now active in 40 countries, stationing trained professional peaceworkers in conflict areas around the globe and is sustained by an $8 million budget. He works with World Beyond War and is currently executive director of Peaceworkers in San Francisco. Waging Peace has been in the works for 27 years.
Hartsough's nonviolent tactics range from conducting nonviolence trainings to acting as a human shield in Central America, Kosovo, and the Philippines. He is always conscious of the power of human relationship, aware that more intentional and rewarding connections are not only conceivable, but also attainable and worth strategizing and striving for. As he writes in a chapter called "Blockade: Standing in the Way of Bombs Headed for Nam":
Soldiers in the military develop a sense of comradeship that is necessary for survival in war….I find great hope in believing that if we are willing to apply the same kind of discipline and determination to do risky and sustained nonviolent actions for peace as soldiers do in fighting wars, we might see remarkable transformation in our society and world.
Our collaborations as human beings provide, in words Bishop Ken Untener wrote in honor of Archbishop Oscar Romero, "an opportunity for the Lord's grace to enter and do the rest." But there is no pie in the sky over Hartsough's head, no Sugarcandy Mountain on the horizon. He sees what needs to be done clearly and without distraction. For example, sometimes it boils down to "the protective power of a peaceful presence" – risking death, severed legs, broken bones, cigarette burns, condiments and phlegm to the face, verbal abuse, indifference, etc. Other times, one must summon the future, announce that choices may be made, pose the right questions. Hartsough seems comfortable with this aspect of prophetic duty, which always comes across as sincere, respectful, humble, and weighty. Not heavy, but weighty. Something to be contended with:
Whether or not 2020 is the year the American Empire will collapse [as Norwegian sociologist Johan Galtung predicts] I don't know. But I believe a transition is inevitable. As Americans, we face a key question: Will we join people around the world to try to make this transition as peaceful as possible, or will we try to hold onto our privileges and our world-dominating way of life?
And then there's the weight of accomplishment, the weight of merit and experience which can be an anchor, a platform, a matrix. As soil is a matrix. As faith is for Hartsough.
This is my faith – that we can be co-creators with God in helping to build a world of peace, justice, and human dignity for all people. We have all that we need to bring about transformation, and we are all critical to the struggle.
Hartsough reports that over "half the world's people live in countries that have had powerful nonviolent movements," and his book reveals that he has thus far played a significant role in an uncommon number of these, co-creating safety, infrastructure, skill sets, mindsets, history, and heartsets.
Jason Rawn is a graduate of the Jack Kerouac School of Disembodied Poetics at Naropa University and is a member of NWTRCC's Administrative Committee.