Divest From War, Invest In People 2017
Redirection to Black, Brown, and Indigenous Resistance!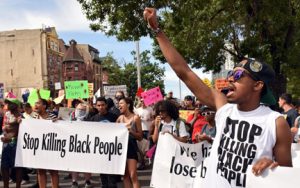 This year, war tax resisters from around the country are taking on a new initiative as part of our ongoing campaign to Divest From War and Invest In People! We are planning to collectively redirect tax dollars to resistance organizations led by Black, Brown, and Indigenous People. Here are some of the reasons why:
Black, Brown, and Indigenous People are directly targeted by systemic racism and state-sponsored violence.
Black, Brown, and Indigenous organizers in our communities are leading—and have been leading for generations—fierce campaigns to end state violence, dismantle white supremacy, and eliminate all forms of oppression. (Check out the Movement For Black Lives Policy Platform which lays out how our movements are deeply connected and how black organizers are leading the charge for systemic change both in the United States and around the world.)
There is a huge wealth gap from the ongoing legacies of white supremacy and systemic racism that impacts households and organizations. In many communities, white organizers have access to more resources than Black, Brown, and Indigenous organizers.
War tax resisters have long recognized the interconnections between our movements. The National War Tax Resistance Coordinating Committee (NWTRCC) statement of purpose reads, "NWTRCC sees poverty, racism, sexism, homophobia, economic exploitation, environmental destruction and militarization of law enforcement as integrally linked with the militarism which we abhor. Through the redirection of our tax dollars NWTRCC members contribute directly to the struggle for peace and justice for all."
This is a chance to build and strengthen relationships between our movements. War tax resisters are showing up, and asking how we can support other organizers working for racial justice!
Are you planning to collectively redirect tax dollars this year to Black, Brown, and Indigenous organizers working for liberation in your community? We encourage tax resisters to customize your organizing to your local community. Our communities are not monolithic so ground your work in your area! NWTRCC will provide support as well as gather information on how much was redirected in total.
Want more information on this campaign? See this in-depth analysis.
Use the form below to report your redirection.