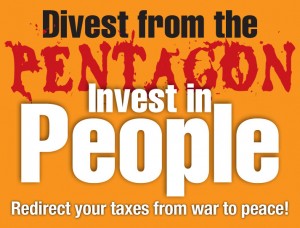 Days of War Tax Action 2016
From Now to Tax Day, April 18, 2016
This list is in formation. Add your event by filling out the form below or email us the details.
See the Tax Day 2016 Press Release
How to set up a Penny Poll and other action ideas.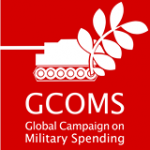 Also, see the Global Days of Action on Military Spending information and events list. NWTRCC is a partner with this worldwide effort.
Arizona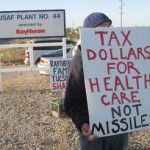 Tucson — Contact Nuclear Resister
Monday, April 18, 7 a.m.–8 a.m. Tax Day vigil at at Raytheon Missile Systems, Hermans Road entrance to the plant (3rd traffic light south of Valencia on Nogales Highway, the extension of South 6th Avenue).  Join the Raytheon Peacemakers as we demonstrate against war and those who profit from it.  Survival demands better ideas, not better weapons. Park off Nogales Highway, between railroad tracks and highway at the Hermans Road entrance.  Signs provided, or bring your own!
California
Berkeley — Contact NCWTR or call (510) 842-6124
Friday, April 15, 6–8 p.m.. War Tax Redirection Ceremony, Berkeley Unitarian Universalists, Fellowship Hall, 1924 Cedar St. (near North Berkeley BART). Sponsored by Northern California War Tax Resistance. 6:00 Potluck Dinner, 6:30 PLF Granting Ceremony, 8:00 Dessert & Networking. People's Life Fund (PLF) will award $20,000 in grants to sixteen exemplary Bay Area peace and justice organizations this Tax Day.
San Diego — Contact Anne Barron. Also see the posting on the Women Occupy San Diego website.
Friday, April 15, 11:30 am: Press Conference — Tax Day Redirection of War Taxes to Local Human Needs. Steps of the San Diego Public Library, 330 Park Avenue. Southern California War Tax Alternative Fund will announce the grantees of its redirected war tax fund, The Peace Resource Center of San Diego and local homeless advocacy organization Amikas are among the 2016 grantees in recognition of their ongoing public education and services to build peace at home. Plus speakers from a variety of community groups. Press Advisory
Friday, April 15, 7 pm – 8 pm: Overhead Light Brigade will take to the I-5 Clairmont Drive overpass with a Tax Day message. Parking available, 2688 E. Mission Bay Dr.
Saturday, April 16, 12-4 pm: Earth Day Celebration: A Community Celebration of Our Planet. Project New Village invites you to a day of learning, workshops and conversation around earth stewardship.  Mount Hope Community Garden, 4261 Market Street. Event sponsors:  Local chapter, Days of Tax Action 2016; First Unitarian Universalist Church of San Diego.
Sunday, April 17, 10 am – 1 pm: Peace and War Tax Counseling, Peace Resource Center Booth, Earth Fair, Balboa Park. Local war tax counselor Anne Barron will provide taxpayers information and resources on how to redirect their war taxes towards peace.
Monday, April 18, 10 am – 1 pm: Peace and War Tax Counseling, San Diego IRS Office, 800 Front Street. Local war tax counselor Anne Barron will be on hand to offer taxpayers information and resources on how to redirect their war taxes to peace.
Santa Rosa — Contact Ruth Paine
Thursday afternoon, April 14, Penny Poll and literature table at Friends House, 684 Benicia Drive.
Colorado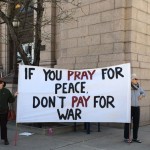 Colorado Springs — Contact Mary Sprunger-Froese
Friday, April 15, 11:45–1 p.m. Vigil, leafleting, and penny poll on  at the downtown post office. Sponsored by the Bijou Community
District of Columbia
Washington, DC — Contact NWTRCC, (800) 269-7464
Friday, April 15, 8:30 a.m.–10:30 a.m. Vigil and leafleting at the IRS headquarters, 1111 Constitution Ave. NW. We'll have some signs and banners or bring your own. Stop by for any amount of time.
Illinois
Chicago — Contact Charles Paidock, (312) 714-7790
Sunday, April 17th, 10–11:00 a.m. Presentation on War Tax Resistance with Rosalie Riegle, Third Unitarian Church, 301 North Mayfield. Sponsored by WRL War Resisters League, Chicago Chapter.
Monday, April 18th, 11:00–1:00 p.m. Pay No War Tax Demonstration, Federal Plaza / Post Office
Dearborn & Adams Streets. Sponsored by WRL Chicago Chapter.
Indiana
South Bend — Contact Michiana War Tax Refusers
Monday, April 18, 4:30 p.m. Vigil with signs outside the Federal Building, and watch for a Voice of the People letter to the local paper about military spending.
Iowa
Dubuque — Contact Citizens' Tax Moratorium, (563) 583-2586
Friday, April 15, 7–9 a.m. Vigil and leafleting on  Historic Federal Courthouse and post office, 6th and Locust Street. A vigil at the same location takes place throughout the year on Monday mornings from 7–8 a.m.
Maine
Around the state — Contact Maine WTR Resource Center, (207) 221-2818
(Due to a holiday, the final day to file in Maine is Tuesday, April 19)
Vigils, leafleting, lit tables, and/or penny polls in various locations:
Friday, April 1, 7–10 p.m.
Kennebunk Town Hall at the Contradance
Saturday, April 9, 10 a.m.–7 p.m.
Belfast Food Coop
Thursday, April 14, 11 a.m.–2 p.m.
Blue Hill Food Coop
Friday, April 15, 11 a.m.–1 p.m.
Brunswick Post Office. Contact PeaceWorks (207) 725-7686
Friday, April 15–Tuesday, April 19
Ellsworth Post Office
Tuesdays, March 29–April 19, 12:15–2:15
UMaine, Machias
Tuesday, April 19, 8 a.m.–7 p.m.

Portland
Congress & High Sts.

Tuesday, April 19, 10 a.m.–2 p.m.
University of Maine, Orono, table in Memorial Union basement. Contact Larry Dansinger, (207) 262-3706
Tuesday, April 19, 10–11 a.m. & 12:30–1 p.m.
Damariscotta, between the post office and Renys
Saturday, April 23, 11 a.m.–3 p.m.
Orono, Hope Festival tabling
Missouri
St. Louis
April 15, 11:30 am – 1:00 pm. Annual leafleting and vigil with Women's International League for Peace and Freedom, at the corner

at the corner of Forsyth and Clayton. Come join us if you are close!
Nevada
Creech AFB
March 27–April 2. Mass Mobilization to Stop the Drone Wars. Look for war tax resistance literature and a presentation by Anne Barron during Shut Down Creech actions, Camp Justice near Creech Air Force Base outside of Las Vegas. You can also join the Facebook event.
New York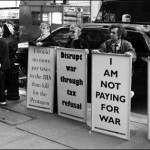 Albany — Contact Old Chatham Quakers
Friday, April 15, 9 a.m.–Noon. March and leafleting "Spirited Action" outside the Federal Building.
New York City — Contact NYC War Resisters League, (718) 768-7306
Scarsdale
Thru April: War Resisters League Pie Chart distribution alongside IRS Forms at Scarsdale Public Library! Come by the Library and check it out! Sponsored by an anonymous member of NYC War Resisters League.
North Carolina
Burlington— Sponsored by Alamance Peace Action. Contact Daniel Woodham re: NWTRCC
Friday,  April 15, 11:30 am -1:30 pm:  Holding banners and leafleting at the post office on Maple Street.
Friday,  April 15, 3:00 – 4:30 pm: Penny Poll at the Library. Passersby get 10 pennies and choose how they would like their tax dollars spent.
Oregon
Eugene — See the Facebook event or contact CALC
Friday, April 15th, 11 a.m.–1 p.m.: US Post Office, 520 Willamette Street. Penny poll   Taxpayers are given the opportunity to show where they want their tax dollars to go, plus rally, speakers, and music. War tax resisters will redirect their war taxes by making donations to local organizations.
Portland — Sponsored by WRLPDX/Oregon community of War Tax Resisters
Friday, April 15, 7:30 a.m.–9 a.m.: Burma shave style signs supporting peace, not bombs! at Fishels Furniture near MLK Blvd. and SE Burnside at 7:25. For more info contact Kima at (503) 249-6343 or John at (503) 746-6366.
Tuesday, April 19, 7 p.m.: Redirection Presentation at Augustana Lutheran Church Community Room, 2710 NE 14th Avenue. For more info contact Pam or call (503) 285-6371.
Pennsylvania
Lehigh Valley – Contact LEPOCO Peace Center or (610) 691-8730
April 18, 10:00 a.m.–2:00 p.m. Various locations including, Allentown, Bethlehem, Easton, etc. Leafletting at local post offices with War Resisters League "Where Your Income Tax Money Really Goes". See the website or call LEPOCO for the location nearest to you.
Texas
Austin — Contact Susan at (512) 467-2946
Monday, April 18, 6:00 pm: Human Penny Poll  on South Congress Ave. near Guero's, 1214 S. Congress.
Sunday, April 24, 9:30 a.m.: Death and Taxes film showing (30 min.) followed by a Forum presentation, discussion, and Q&A. Friends Meetinghouse, 3701 East MLK Jr Blvd. Call or text Joanna at (217) 417-4694

Vermont
Brattleboro — Contact Pioneer Valley War Tax Resistance or call (802) 387-2798
Monday, April 18, 10 a.m.–2 p.m. Literature table, signs, music outside the Brattleboro Food Coop, and long-time war tax resisters will be there to answer any questions. Sponsored by Pioneer Valley WTR.
Washington
Seattle — Veterans For Peace, Seattle chapter 92 or (206) 499-0226
Friday, April 15, 11:30–1:30. Leafleting on military spending, Westlake Park, downtown Seattle, 4th and Pike
Wisconsin
Milwaukee — Contact Lincoln or Mikel, Casa Maria at (414) 344-5745
Saturday, April 16, Noon–1:00 p.m. Vigil to Protest Federal Tax Dollars for War and Environmental Harm, U.S. Army Reserve, 5130 W Silver Spring Drive. Sponsored By Milwaukee War Tax Resistance, Casa Maria Catholic Worker, Peace Action-Milwaukee. Please join us and hold a sign!
CANADA
Toronto, Ontario — Contact Conscience Canada, 416-423-5406, Facebook event
Saturday, April 9, 3:30 pm.

"The Cost of Peace versus the Cost of War," a

talk by Dr. Izzeldin Abuelaish, the 'Gaza Doctor'. He lost three daughters and their female cousin in the 2009 conflict in Gaza. In 2010 he wrote the book 'I Shall Not Hate' about overcoming his own difficult life to become a medical specialist, and about his efforts to bring warring sides together, mostly around healing. He now lives in Toronto. Sponsored by Conscience Canada, which will hold their business meeting at 2 pm. See the Facebook event for details.
SOUTH KOREA
Gangjeong, Jeju Island — Contact Jason Rawn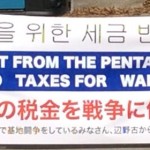 Wednesday, April 13:  Vigil at the U.S. naval base in conjunction with the Global Days of Action on Military Spending. Signs and banners will include a tri-lingual banner that says "Don't Pay Taxes for War" in Japanese and Korean, and "Dive$t from the Pentagon" in English.
For more events outside the U.S., see the Global Days of Action on Military Spending information and events list.
---