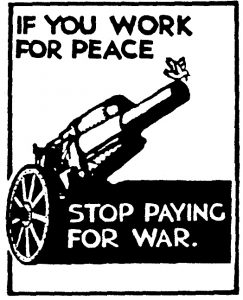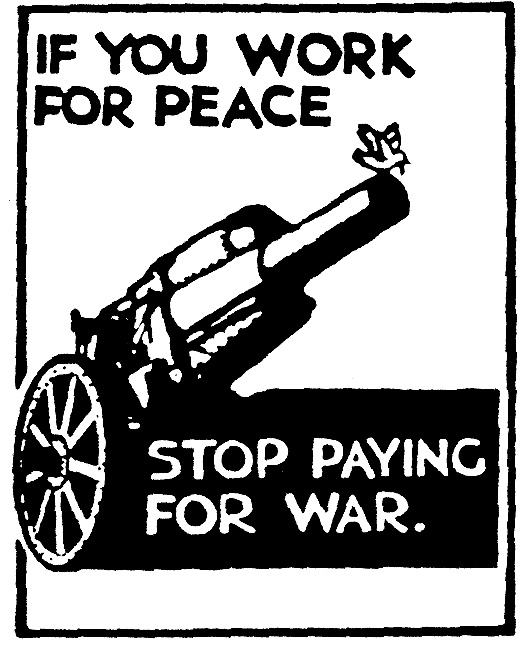 Yes to the Earth! No to War Taxes!
War Tax Resistance Gathering and Coordinating Committee Meeting
, Portland & Corvallis, Oregon
*The Conference is at multiple locations. So please check the schedule closely.
Join us the first weekend in November for "Yes to the Earth! No to War Taxes!" with a mini-conference on Friday evening and Saturday. The primary focus of the weekend will be on collaboration between war tax resisters and environmental activists. The Friday evening session will begin in Portland at 5:00pm at t. After the session ends at 8:00pm, we will carpool down to Corvallis. The Saturday & Sunday portions of the program will be in Corvallis.
Schedule and program (Coming Soon!)
You are welcome to attend one session, all or parts of the weekend.
Contacts for the Gathering: Lincoln Rice 262-399-8217
Travel: The closest airport is Portland International Airport (PDX). Amtrak & Greyhound both provide service to Portland. On Friday evening at 5pm, we will meet at t
Please let us know your arrival time so that we can connect travelers or consolidate pick ups if you need one. More information will be sent after you register, or call the NWTRCC office for help. Please register with NWTRCC if you need housing or are joining us for meals. Registration & supper begin at 5 pm on Friday.
Driving & Public Transit direction to Peace House (Only one train or bus is needed to arrive at Peace House whether your arrive at the airport, train, or Greyhound station).
Housing: Conference attendees will be staying in the homes of folks in Corvallis, who have graciously offered us a place to day.
Meals The program begins with dinner (5pm) on Friday and ends with lunch (noon) on Sunday. All meals are vegetarian, and everyone is asked to help with prep and clean up. Please note special diets on the registration form.
Costs: We are asking a $25 registration fee in advance for those who can afford it (This cost includes housing and meals). Those who come for part of the weekend are asked to make a contribution in advance or on site. Pay with Paypal online,
or make checks payable to NWTRCC and send to the NWTRCC office, PO Box 5616, Milwaukee, WI 53205. You may also pay onsite.
Full travel and housing details will be sent after you register.
Weekend Schedule (Coming Soon!)
Driving and other travel directions (Coming Soon!)