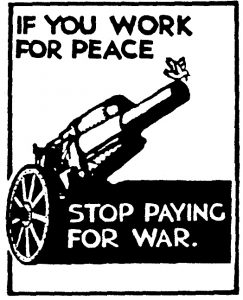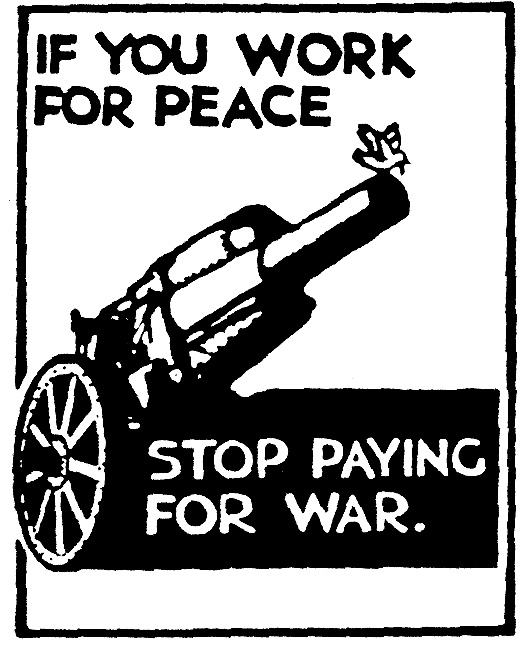 Divest the Pentagon – Invest in People
War Tax Resistance Gathering and Coordinating Committee Meeting
Washington, DC • May 3-5, 2019

*The Conference is at multiple locations. So please check the schedule closely.
You are welcome to attend one session, all or parts of the weekend.
Contacts for the Gathering: Lincoln Rice 262-399-8217
Travel: The closest airport is Ronald Reagan National Airport (DCA), about 40 minutes from St. Stephen & the Incarnation Church. Please take travel time to and from the airport into account for arrivals and departures. Amtrak has trains into Washington, DC. Greyhound has service to Washington, DC. Driving and more detailed directions
Please let us know your arrival time so that we can connect travelers or consolidate pick ups. More information will be sent after you register, or call the NWTRCC office for help. Please register with NWTRCC if you need housing or are joining us for meals. Arrival registration begin at 5 pm on Friday.
Housing: There is only floor space at St. Stephen & the Incarnation Church. There is no parking in the St. Stephen Parking lot. There is some unrestricted parking on side streets north of the church. Please make sure to check street signs. If you are someone who can offer a bed or know potential hosts in Washington, DC, please contact Lincoln Rice.
Meals The program begins with dinner on Friday and ends with lunch on Sunday. All meals are vegetarian, and everyone is asked to help with prep and clean up. Please note special diets on the registration form.
Costs: There is a sliding scale for the cost of the conference, though no one will be turned away. We are asking a $20-40 registration fee in advance for those who can afford it ($20 for the conference & meals / $20 for staying two nights). Those who come for part of the weekend are asked to make a contribution in advance or on site. Pay with Paypal online,
or make checks payable to NWTRCC and send to the NWTRCC office, PO Box 5616, Milwaukee, WI 53205. You may also pay onsite.
Full travel and housing details will be sent after you register.
Driving and other travel directions