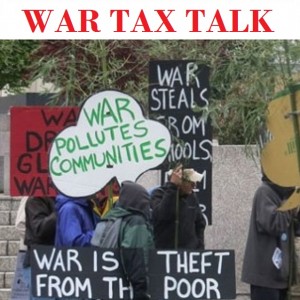 Hear from the National War Tax Resistance Coordinating Committee and executive directors from two of its affiliates, Maria Santelli from the Center on Con­science and War and Jack Payden-Travers from the Nation­al Cam­paign for a Peace Tax Fund. Panelists discuss their ap­proaches to war resis­tance that go be­yond the anti­war march and rally to indi­vidual and col­lective ac­tions to re­sist war.
Listen to War Resistance Beyond the Rally.
Subscribe to the podcast feed by adding http://feeds.feedburner.com/WarTaxTalkPodcast to your RSS reader. We hope to get onto iTunes and/or other podcast syndication sites soon. Send suggestions for podcast/Google Hangout topics or promotion ideas to wartaxresister at nwtrcc dot org.