…who have appeared in NWTRCC's newsletter, "More Than a Paycheck"
Nathan Beall (October 2016).
My desire to live in community and to resist war began while I was in college, studying religion and working on the campus community garden. The spiritual and intellectual seeds planted there grew during my time in seminary, after which I returned to the college and parish that I attended as an undergraduate to live and work on that same community farm in Maryland. My community and I pray together and grow food for ourselves and for the poor. After a year, I was ordained as a priest and found my way into three employment opportunities: campus minister at the college, assistant at the parish, and professor of Religious Studies. All of these represented not only promising opportunities, but various aspects of my vocation, so I accepted them. I did not, however, have any desire to enter the war machine by paying federal income taxes.
[read more]
Margaret Weitzmann (July 2016).
A bit of history: On November 4, 1977, Islamic revolutionaries in Iran stormed the U.S. Embassy, launching the hostage crisis. On February 1, 1979, Ayatollah Khomeini became Iran's premier. The deposed Shah bargained for asylum around Europe, the Mideast and Africa into the summer, when President Carter admitted him to the U.S.
In April 1979, two things happened: The U.S. broke off diplomatic relations with Iran. And, friends who just happened to be visiting a Navy Fleet massed in Miami witnessed what looked to be a decontamination drill on board one of the vessels. I jumped to the conclusion that Carter was about to solve the hostage crisis by attacking Iran.
Tax Day 1979 fell on Easter Sunday. My 1040 was calculated, ready to send. I'm not a devout anything. Suddenly I couldn't write that check. Instead I dashed off a note saying in effect "No more war," and enclosed that.
[read more]
Kathy Labriola (April 2016).
I am a counselor, nurse, and hypnotherapist in private practice in Berkeley, California, and I have been a war tax resister for nearly 40 years. With tax time fast approaching, I thought my story might be food for thought.) Any nation needs three things in order to wage war: young men and women to join the military, billions of dollars to finance a war, and a compliant and complicit public. Those of us who oppose war can take action in any or all of these three arenas. Refusing to pay taxes for war can be an important part of an overall strategy to end war, and I have tried to do my small part to obstruct wars
[read more]
Matt Niznic (December 2015).
Since 1987, I have refused to pay any federal taxes and have not filed returns. Both Rose and I have been at our current jobs at nonprofit organizations for the past 21 years and, since I work at a place where I'm fairly easy to find, I feel lucky that I never heard from the IRS until 2007. They garnished my wages at that time, but only collected on me for the three years prior to that. I'm even more fortunate that the WTR Penalty Fund was able to assist with most of the penalties and interest from that collection.
Although we are not married, since we live in a community property state we have always kept our finances separate.
[read more]
Sylvia Metzler (August 2015).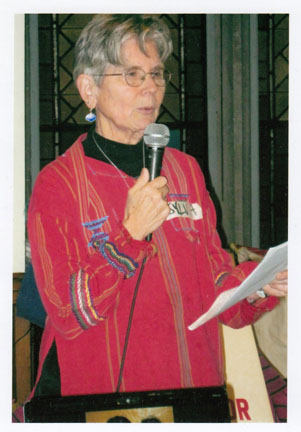 In 2014 my taxable income was $11,826 and I got a $41 refund. Too bad! I would like to have withheld some taxes to protest money used for wars and drone killings and budget cuts for education, health care, and environmental protection. I can no longer concentrate my protests only on military spending. These other issues are just as important and are, of course, related.
But can you believe that I once supported the Viet Nam War? That I actually believed in the "domino theory" and was a Rockefeller Republican? The pastor of my Presbyterian Church and his wife changed all that—thank goodness—as they took courageous stands against the war and racism.
[read more]
Redmoonsong (June 2015).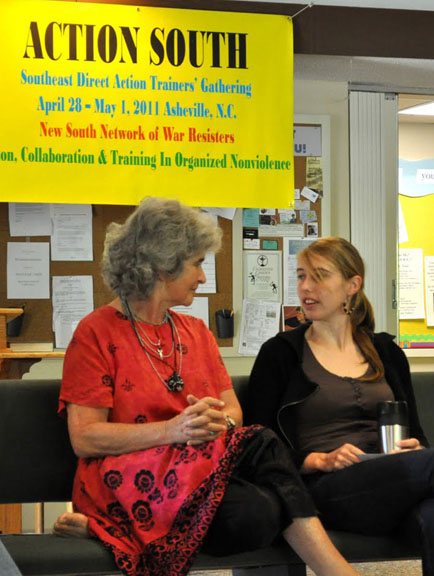 Having been a war tax resister most of my life (and doing mostly unwaged work — mother, housekeeper, etc.), the IRS says I only have 27 quarters — not enough for regular Social Security and Medicare.
Well, if you wait till you're 69 like I did, and are poor, disabled or blind, you can qualify for SSI (Supplemental Security Income). With that comes Medicaid/Medicare/food stamps — the whole ball of wax from the feds. I haven't had a bank account since 1984. No credit, no phone, no electricity, no water, etc. Now they wanna give me everything. Should I take it?
[read more]
Peter and Mary Sprunger Froese (April 2015).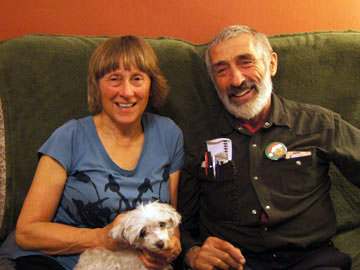 Peter and Mary live in Colorado Springs and are part of the Bijou Community, which is an intentional, faith-based community working for nonviolence and social justice.
They met when Peter was in graduate school at a Mennonite Seminary in Indiana, and Mary was working with a county home for indigent people. They married, lived in Canada near Peter's family for six months, then set about looking for a community that combined their desire to work with poor people and with peace­making. "We see those as so connected. War impoverishes the earth and impoverishes people. It's just so antithetical to what makes for peace." They found a small group of kindred spirits in Colorado Springs and have been there since 1979.
[read more]
Lincoln Rice (August 2014).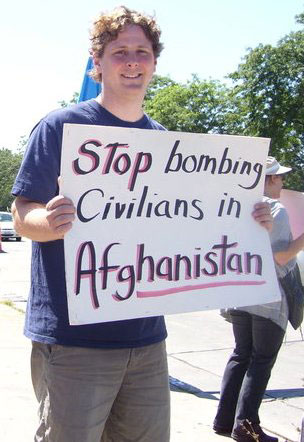 "And who is my neighbor?" A scholar of the law asked Jesus this question, and he responded by sharing the parable of the Good Samaritan (Luke 10:25-37). The Samaritan (an outsider) aided a victim of a vicious robbery after pillars of the religious community had ignored him. I was taught this story as a second grader in Catholic school, and it remains a vivid memory. Often putting others before ourselves, the teacher told us, was the moral of the story. After being picked up by my mother for the car ride home, she asked the mandatory question: "Did you learn anything in school today?"
[read more]
Jack Herbert (April 2014).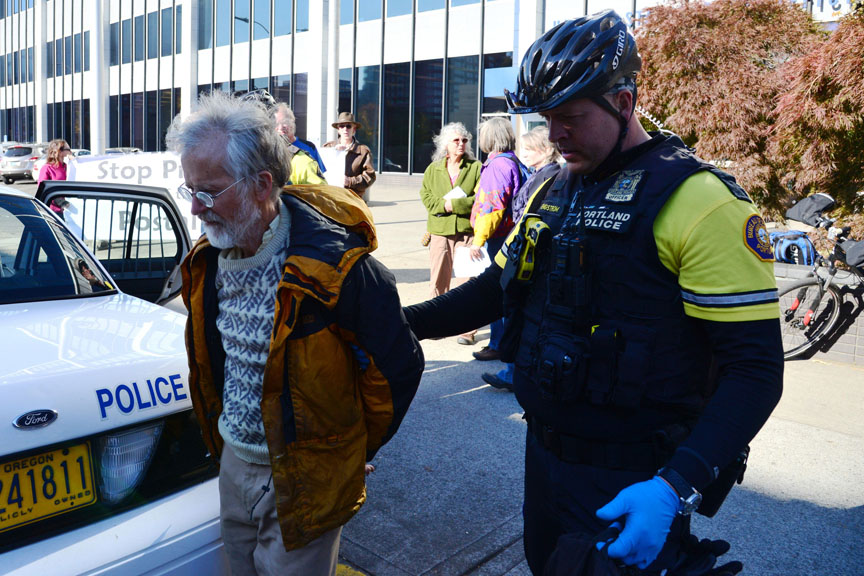 An interview with Jack Herbert by Ruth Benn
One thing about dealing with the IRS, it is time consuming. Our network probably needs an award to individuals for hours spent calling, writing, and waiting on the IRS. Jack Herbert in Oregon would be right up there among the nominees. At least his case has a happy ending.
[read more]
Robin Harper (February 2014). I was moved by Bill Ramsey's eloquent article "Redirection: Our Constructive Program" (MTAP, June 2013) to recount a bit of history.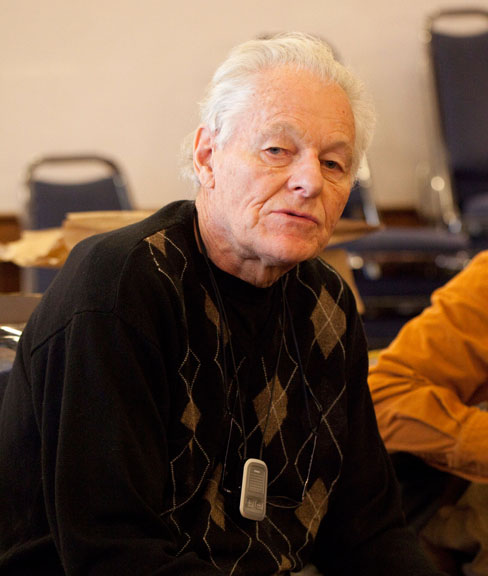 Robin Harper speaking at a WTR workshop in
Philadelphia, March 2013 (Photo by Ed Hedemann)
It was back in 1958. I had been powerfully influenced by my participation in activities of Peacemakers and was ready to begin my witness as a WTR. I had met and married my dear German wife, Marlies, in 1953 while doing Alternative Service (Korean War) at the self-help housing project/AFSC workcamp at Flanner House in Indianapolis, Indiana.
It needs to be said that Marlies had endured, and survived, living in Germany all during WWⅡ. As she recounted her harrowing experiences to me, for the first time I was gaining an up-close-and-personal understanding of the true nature of war. Her insights contributed profoundly to the development of my lifelong grounding in nonviolent peace and justice activism.
[read more]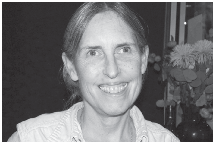 Ruby Phillips (December 2013). Time passes quickly, and it's now been 30 years that I've refused to pay for U.S. military wars. I began to resist after a local war tax resistance volunteer attended a meeting at my workplace and introduced us to the practice and underlying philosophy of war tax resistance (WTR). Prior to his presentation, I had never heard of it; since then, I have been empowered by this way of life and cannot imagine returning to the excess obedience and internal denial of paying for war. [read more
]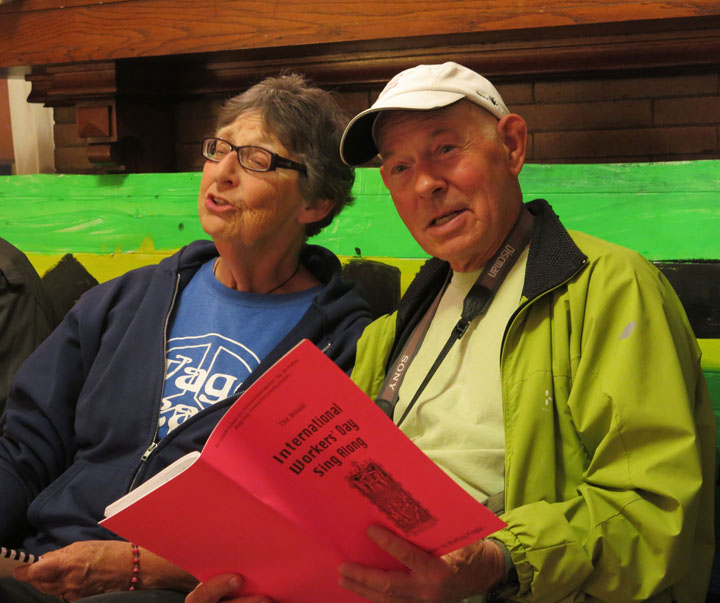 Cathy Deppe (August, 2013) had her first run-in with the IRS as a direct result of refusing the federal excise tax on telephone service, which was increased by President Lyndon Johnson to help pay for the war in Vietnam. Although LBJ said we could have guns and butter too, we would have to pay for both. My husband and I were University of Illinois graduate students, living on next to nothing anyway but both determined our tax dollars should fight a different kind of war — the "war on poverty" Johnson had promised to wage. As conscientious objectors, we were part of a growing movement to resist the war through refusal to fight for it and refusal to pay for it. [read more]
Aanya Adler Friess (June, 2013) has been resisting war taxes since the 1960s. At age 86, she no longer attends meetings on a regular basis, though she lives below the taxable income level. She discusses war tax resistance with activists from the organizations that make up Albuquerque's Peace and Justice Organizations Linking Arms (PAJOLA), of which she is a founding member. [read more]
Andrea Ayvazian (February, 2013). When asked about who I am, how to introduce myself, I fumble around and use some or all of these words — I am the proud mother of Sasha Klare-Ayvazian (now 24); I am a woman of faith, a long-time activist for peace, social justice, environmental sanity, and an anti-racist world; I am an ordained pastor in the United Church of Christ, a former Quaker, a singer, songwriter and poet. [read more]
Seth Berner (August, 2012). My name is Seth Berner. I'm a poverty lawyer and general human rights activist in Portland, Maine. At some point I realized that I could not act for change and help those in need if I blindly supported the status quo and despair by automatically paying all the taxes my government wanted me to pay. [read more]
Carol Dotterer (April, 2012). My 88-year-old mom, Ruth Kirk, was visiting me in South Carolina when we were asked to write a profile for this newsletter after we asked for some Zombie war tax resistance forms mentioned in the December 2011 issue. [read more]
Beth Seberger (February, 2012). In 1970, two years out of college, as a recent arrival to Kansas City, and in the midst of the Vietnam War, I became a war tax resister. Why? [read more]
Lauren Tepper (October, 2011). When I first began war tax resistance, it was not something I wanted to do. It felt like, as Julia Butterfly Hill has called it, a "choiceless choice." Given my abhorrence of war, I could not justify paying for it with my tax dollars. I had felt this way for years, but it seemed futile for me alone to take a stand. [read more]
Dee Logan (June, 2011). I've kept my wages below taxable limits so as not to be required to pay income (war) taxes. And now, due to health issues, I am not employed. However, the year my mom passed on (2002), I did receive some inheritance. Although the financial person said it was not taxable, it was — and so the InFernal Revenue S(C)ircus started writing me letters requesting payment. [read more]
Rod Nippert (April, 2011). I am 61 years young. I live in an intentional community in southeastern Ohio. I have been a war tax resister (WTR) since the early 1970s. I believe being a WTR has profoundly affected my adult life. [read more]
Patricia Tompkins (December, 2010). I just heard on National Public Radio this quote from a Chinese entrepreneur who became an organic farmer. "By chasing after money, we have forgotten the essence of life." For me, the essence of life is connection to the land and to each other because without the first we cannot live and without the second we cannot be fully human. [read more]
Heather Snow (October, 2010). When I was a young girl around the age of 10, I already understood what a corrupt world we lived in. I had a deep distrust for society and mostly government. I had a few jobs when I was 17, and decided not to pay my taxes as a statement against paying for war and supporting a government who didn't really take care of its people. [read more]
Liz Scranton (April, 2010). I began my journey with war tax resistance in 1989 and now, over twenty years later, I am still hanging in there with every bit as much resolve. My conviction that it is wrong for my tax dollars to fund wars to "keep us secure" remains strong. [read more]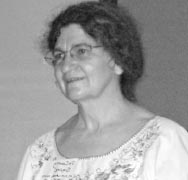 DeCourcy Squire (Aug. 2009). It is late winter in the 1950s. My father is closeted with lots of receipts, trying to figure out the taxes. Although he is a brilliant mathematician, he finds arithmetic, especially in these pre-calculator days, tedious and it makes him cross.… [read more]
Mimi Copp (April 2009) Jesus says to love your enemies and your neighbors. In some ways, that is all that needs to be said as to why I have decided to redirect my federal tax dollars away from war-making and towards life giving initiatives. I can't figure out how to justify the killing of those who Jesus says to love. How am I loving them if I'm a part of their destruction.… [read more]
Becky Pierce (December 2008) I have been a war tax resister for the past 43 years, all of my adult working life. Since 1989, when I stopped filing tax returns, I've gotten very little attention from theIRS. Because I am self-employed, my income is not normally reported to the IRS. But a little over a year ago a local agent started… [read more]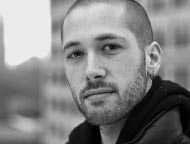 A. Jesse Jiryu Davis (Aug. 2008). In the summer of 2006, I officially became a Zen Buddhist and promised to uphold the Buddhist precepts. It seemed to me that the gravest of them was Non-Killing, and that the most violent thing I did was to pay my federal income tax… [read more]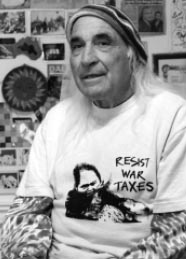 J. Tony Serra (Aug. 2007). He's been called one of the greatest criminal defense lawyers of the 20th century. He's also only one of two war tax resisters since World War II to have been jailed for "willful failure to pay" federal income taxes. Last March, Tony Serra was released after spending nine months in Lompoc Federal Penitentiary in California. Twice before — in 1974 and 1986 — Serra had been convicted because of his war tax resistance.… [read more]
Tim Pluta (April 2007). While serving in the military, it finally occurred to me one day that I might be called upon to kill somebody. I didn't like the idea very much, so I ended up applying to get out as a conscientious objector (CO). [read more]
Stanley Bohn (August 2006) As war tax resisters the why-we-do-it shapes the what-we-do. Since our reasons for not paying part of our federal income tax are not to avoid all taxes, my wife Anita and I use probably the least clever ways to resist taxes. We reduce our taxable income by giving as much as we can to charitable causes, fill out tax forms, and send.… [read more]
Rev. Bucky Beach (April 2005) It was over 20 years ago that I started nonpayment of taxes owed to the IRS. I was scared, but youth breeds a sense of immortality, which was accompanied by a bit of a chip on my shoulder and a desire to be faithful to what I believed. I did some research and read some stories of property seizures and levies.… [read more]
Aaron Falbel (April 2003) In December of 1990, I became a war tax resister. Shortly before the Persian Gulf War (#1), I attended a peace rally on the Boston Common. Despite the impassioned speeches given by Howard Zinn, Daniel Ellsberg, and others that day, I had a sinking feeling that standing out in the cold for a few hours, chanting slogans, and marching through the streets of downtown Boston was not going to stop the war from happening.… [read more]
Nancy and Gary T. Guthrie (Feb. 2007 and Dec. 1998) Imagine that you are sitting on a lawn chair atop a straw stack bordering a beautiful organic garden in the heart of Iowa. You are watching a golden harvest moon rise above the rows of corn that stretch out in front of you rustling like a sea of applause. The straw stack is a mulch supply for the beautiful garden… [read more]
Wally Nelson: A Revolutionary Inspiration, remembrance by Bob Bady (August 2002) Wally Nelson died on May 23, 2002. He died in much the same way he lived his life: without fear, and surrounded by people who loved him. Wally was born in 1909 near Little Rock Arkansas, son of Duncan and Lydia Nelson. He was the second youngest of sixteen children. His father was a Methodist minister, and the family spent a few years sharecropping… [read more]
Priscilla Adams (April 1997). When I left college in 1974, I joined the Movement for a New Society and earned below a taxable level, filing W-4s as exempt. When I began to earn enough to owe money, I refused to pay 100% and continued to file W-4s as exempt. After a paycheck was garnished I stopped filing my 1040s because I did not want to help them in any way to collect money.… [read more]
Tom Wilson (October 2008). "I am sorry to announce that The Commonwealth has taken action that forces me to close my dental office for non-compliance with licensure and newer infection control protocols. I am deeply saddened that I must abandon patients or face arrest. Your records and x-rays may be picked up at the office."… [read more]
Peter Smith (February 2006). I was a product of the 50s: Civil Defense drills, the Red Menace, McCarthyism, super patriotism, Korean War, etc. I joined NROTC in college so my parents would not have to pay my tuition and books. I had two younger sisters they needed to send to college. I did not like Navy life and resigned after spending the required four years in service, although my politics were as right wing as ever. While I was in the Navy we had to endure countless counter-insurgency lectures, as the military advisors were already starting their work in Vietnam.… [read more]
Carol Moore (February 2004). In 1975, while living in New York City, I was involved in radical feminism and political comedy, song-writing and play writing. I started supporting myself working off the books. Come April 15, 1976, I found that I owed the IRS more than $1000. I worked double shifts for two months to raise the money. As I sent the $1,000 off — still the largest check I've ever written — all I could think was that the money would pay for one big mortar shell that might kill a child or a family.… [read more]
Charlie Hurst and Maria Smith (December 2002). My wife, Maria Smith, and I have been war tax resisters for a number of years now. We do not do this out of any quarrel with the tax system or the concept of paying taxes. We are war tax resisters because that is how our faith in Jesus Christ calls us to live and act in the world. We do not pay the military portion (fifty percent) of our federal income taxes; and instead give that money to groups and organizations working for peace, justice, hunger relief, and economic and social development in this country and the world.… [read more]
James Satterwhite (December 2003). In 1969, as I was graduating from college in Florida at the height of the war in Vietnam, I faced a dilemma. Should I go into the military to fight in Vietnam, or was there another option for someone who had come to the position that violence and war are wrong? At that time I was fortunate, as I was able to do "Civilian Alternative Service" as a Conscientious Objector under the Selective Service guidelines in effect at the time.… [read more]